PLAN SPONSOR
Understanding Fiduciary Responsibilities
FREE DOWNLOADABLE GUIDE
Know the Responsibility
"ERISA fiduciaries are often said to be charged with the 'highest duty known to the law' and could face personal liability for breaches." As an ERISA fiduciary, you are tasked with a number of responsibilities: selecting and monitoring services, minimizing risks, acting as a prudent expert, and understanding the terms of plan documents. Not to mention, fiduciaries can be held liable for errors that arise.
It is pertinent to have a thorough understanding of the fiduciary role and responsibilities in order to fulfill plan procedures and limit the liability associated with the fiduciary role.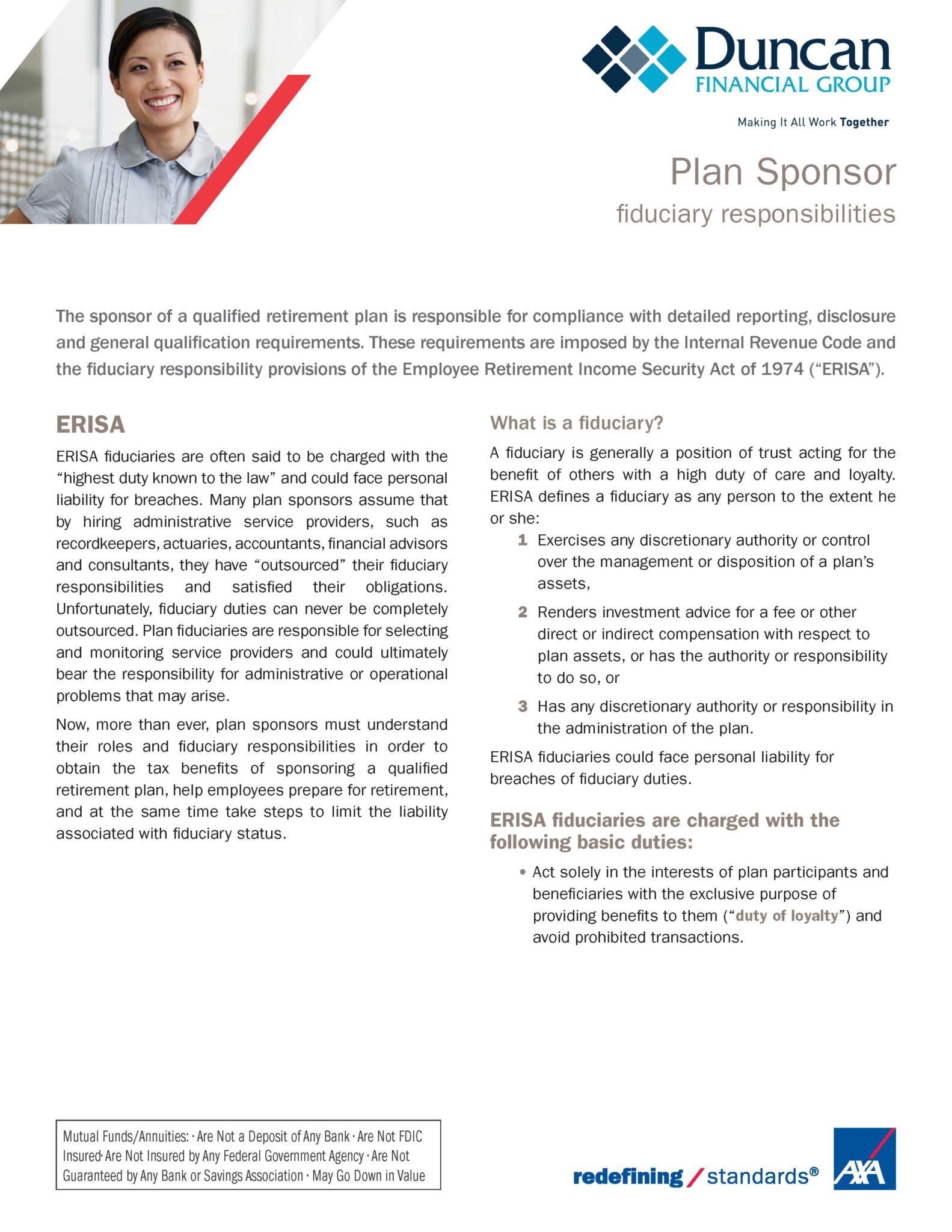 Fiduciary Responsibilities Guide
Now, more than ever, plan sponsors must understand their roles and fiduciary responsibilities in order to obtain the tax benefits of sponsoring a qualified retirement plan, help employees prepare for retirement, and at the same time take steps to limit the liability associated with fiduciary status.
Are You A Fiduciary?
Consider These Questions & Review The Fiduciary Five-Step Process
An important first step in that process is to determine your level of fiduciary awareness and take the necessary steps to bring you and your colleagues up to speed.
Consider the following "Fiduciary Five" questions explored in Plan Sponsor: Fiduciary Responsibility:
Do you know who the fiduciaries of your plan are?
Do the fiduciaries of your plan know that they are fiduciaries?
Do the fiduciaries of your plan know their responsibilities under ERISA?
Do you have a "fiduciary structure" that outlines the roles and responsibilities of each fiduciary, establishes administrative and/or investment committees and a system for the delegation of duties?
Do established and documented processes exist to demonstrate compliance with fiduciary responsibilities under ERISA?
Protecting Yourself From Liability