Start Your Career with Duncan
Please see our open positions below.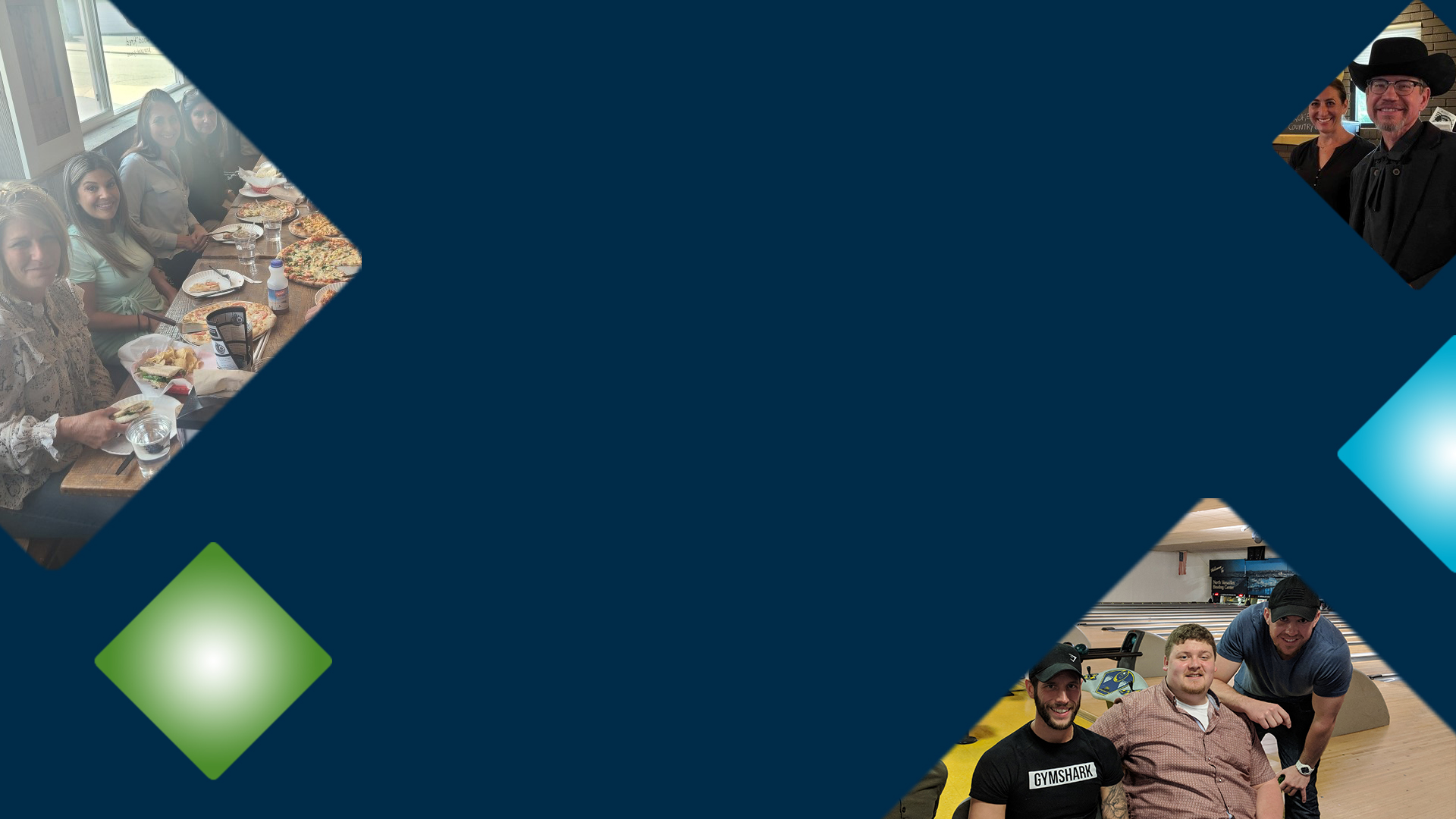 The Benefits of Starting Your Career with Duncan
At Duncan Financial Group, we believe our dedicated professionals are our greatest asset. That's why we offer a comprehensive and competitive benefits plan, designed to support our employees' health, financial stability, and overall work-life balance. We offer a variety of benefits to help our employees and live secure, healthy lives, including:
Health, Dental and Vision
With five plans to choose from, Duncan Financial Group offers options that will work for you. All plans are offered through United Healthcare. Our high deductible plan is offered at no cost to employees and their families. Duncan also supplements each plan with a Health Savings Account contribution equal to 25% of your deductible. Dental and vision are also offered through United Healthcare. Employees dental coverage is also company paid.
Financial Security
Duncan's 401(k) plan provides you an opportunity to defer compensation for your long-term savings and includes a company safe harbor match. The plan offers a variety of investment options to help you reach your financial goals.
Company-paid basic Term Life and Accidental Death & Dismemberment Insurance with the option to enroll in additional coverage for you and your dependents.
Company-paid Long-Term Disability with the option to enroll in short-term disability.
Network of Support
Duncan cares about your health and well-being, both on and off the job. The following benefits are available at no cost to help make life a little bit easier.
Duncan's free Employee Assistance Program provides confidential 24/7 support, resources, and referrals for every aspect of work and personal life.
Employees have access to legal services, identity theft protection, supplemental insurance such as cancer, accident, hospitalization and specialized medical services.
Time Off
Regular time away from work is essential for employees to recharge and renew. Employees earn paid time off in addition to company paid holidays.

Duncan has a Paid Time Off Matching Program for new hires in which Duncan will match up to the maximum PTO allotment for candidates who do not want to sacrifice earned time off to make a career change.
Employee Discounts
Duncan offers discounts through Anytime Fitness, Planet Fitness, and Verizon Wireless.
Flexible Scheduling
Duncan offers employees a variety of options including flexible early/late start times and condensed work week options. Duncan also offers the opportunity for employees to work on hybrid remote/office schedule where available.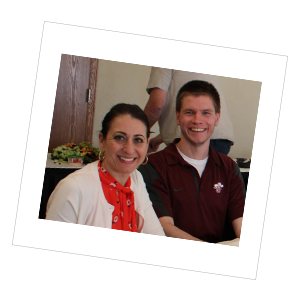 Our personal insurance department is comprised of sales and support professionals who are knowledgeable and service-oriented. We focus on the collective experience and expertise of the team, as well as the best service in the industry to ensure clients are getting the right coverage at a competitive price. We actively seek experienced professionals as well as entry-level candidates to fill roles within our organization, providing financial support and mentoring for licensing, certification and continuing education training.
Led by seasoned insurance professionals, John Duncan and David Leng, our commercial insurance department provides sales and support services in Liability, Workers Compensation, Cyber Security and more. Our professionals enjoy long term relationships with many long-standing clients of Duncan Insurance Group. Duncan provides the commercial team with licensing, certification and continuing education opportunities to keep our professionals up-to-date with industry trends and allow entry-level producers and support personnel the opportunity to be mentored by the best in the industry.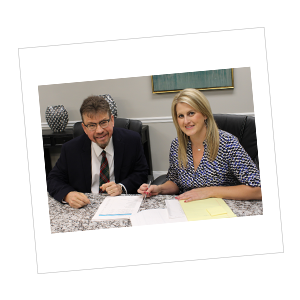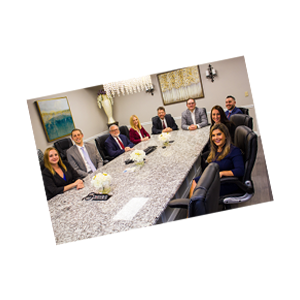 Our group insurance department works with carriers and employers to provide companies with competitive employee benefits packages. Our team specializes in health, dental, vision, disability, life, accident, cancer, legal and identity services. Our team continues to grow. Internships are available for entry-level prospects to work side by side with our professionals to learn if the group benefits department is right for you. Our professionals stay up-to-date on industry trends and strategies and compliance to advise employers on the best options available. Our team provides mentorship, licensing, continuing education and on-the-job training for experienced and entry-level professionals.
Our Brokerage services support outside advisors with a collaborative team of specialists to provide the best possible client outcomes and meaningful success to our distribution partners. Our specialists stay focused on building long-term, mutually successful relations. Duncan offers team members continuing education opportunities, competitive compensation structures and mobility for career growth.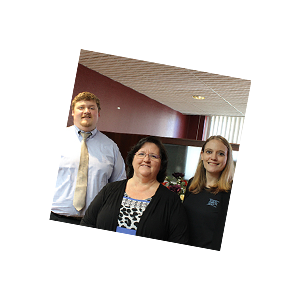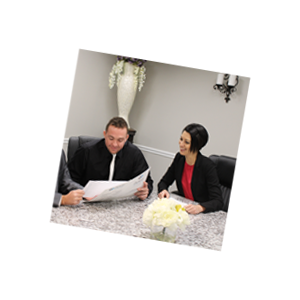 Our dedicated professionals on the Private Wealth Management Team focus on developing long-term strategic partnerships with clients. Our team has various career paths available in investment services, compliance and supervision, full service financial and estate planning and support services. Opportunities for growth in the Private Wealth Management department are plentiful with financial support and mentoring available for licensing and various certifications.
For opportunities in Accounting, Finance, Information Technology, Human Resource, and Marketing, the corporate service team offers mentoring, certifications, job training and intradepartmental collaboration. Our team is comprised of all levels of expertise with growth opportunities within each department.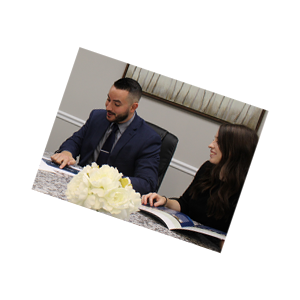 Life at Duncan
From our annual employee social at Greenhouse Winery to our competitive bowling tournaments, life at Duncan Financial Group is working as a team and acting like a family. We also take pride in being an active member of our community by participating in a number of local events, including; Relay for Life, Downtown Irwin's Ladies Night, Music in the Streets, and many more.
Working at Duncan Financial Group
Working for Duncan has been a pleasure since the minute I started. I came here with minimal experience in the insurance industry, newly acquired my property and casualty insurance license as well as my life and health insurance license. The team here with the amount of knowledge, expertise in their fields, and just the willingness to share that knowledge is the reason I am where I'm at today. As long as you're willing to put in the work there is always someone there to help you in your journey. I couldn't be happier with the culture of this company and the people that make it all work.

Working for Duncan Financial Group is like being a member of the family. The family-owned business takes great pride in their employees and offers opportunities for individual and professional development. Professional development by promoting from within and individual development by providing opportunities to volunteer in the local Norwin community.

I have thoroughly enjoyed my time with Duncan, and it is a wonderful place to work and grow my career. This organization is dedicated and invested in the employees and there is tremendous potential for professional growth. I began my career with the organization in an entry-level position. With the support of the organization's leadership team, I was provided with the opportunity to grow into a management position that both allows me to expand my current skills, while acquiring and gaining new proficiencies that are needed to continue my professional development.

"Working for Duncan Financial Group has been a great experience. I enjoy working in an environment that allows me to draw on my skills and experiences to create efficiencies and develop growth opportunities for my division and the organization overall. The ability to explore alternative solutions, make recommendations, and be heard by the leaders of the organization has allowed me to most effectively serve our clients and grow as a professional."
Our Mission, Vision, and Values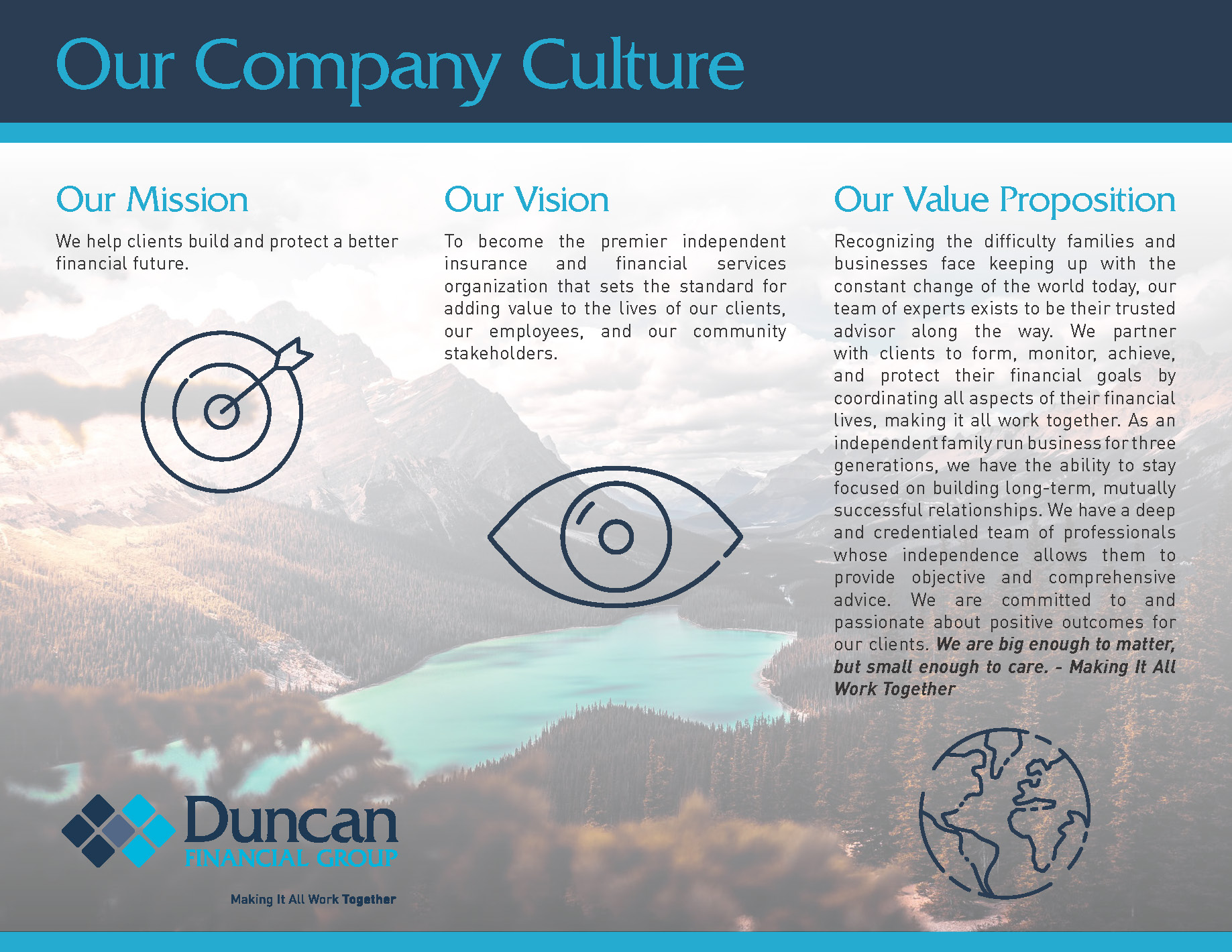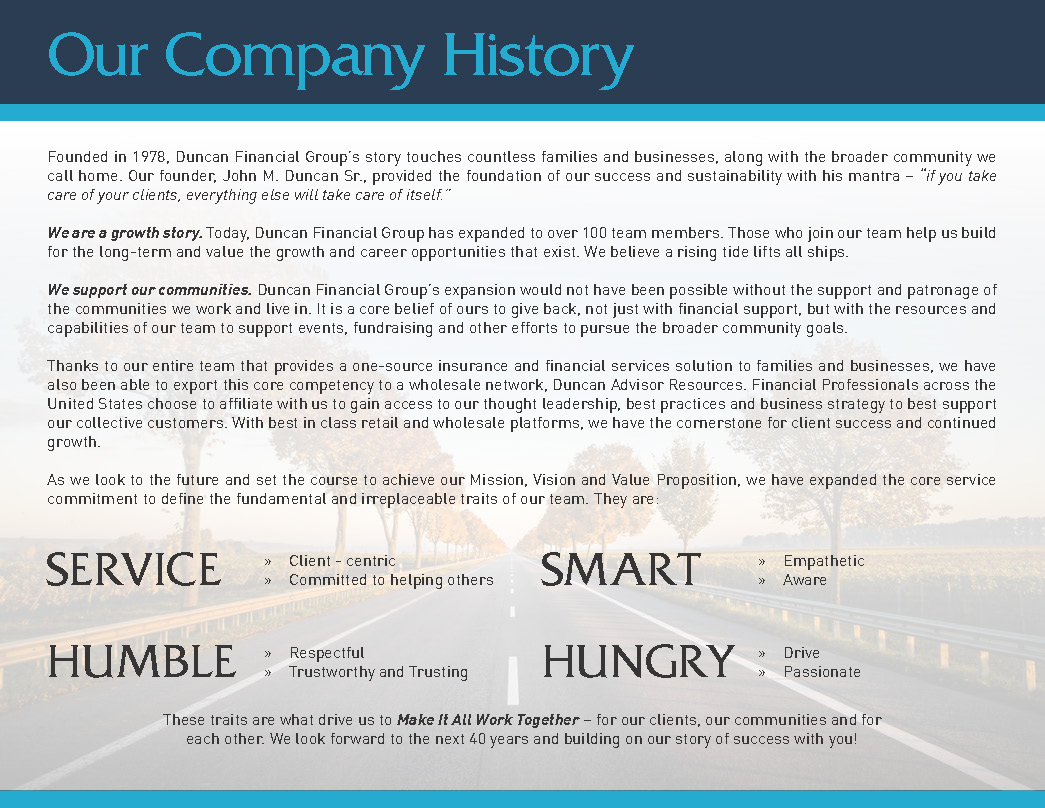 One call. One company. ALL under one roof.
One call. One company. ALL under one roof.
Stay in Touch!
Subscribe to Our Monthly Newsletter & Never Miss a Duncan Detail!