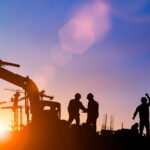 Construction Risk Insights – Construction Industry Trends to Watch
June 8, 2023

Participant Corner: How Much is Enough?
June 8, 2023
Trailer Safety Week Is June 4-10
Towing can be a convenient way to transport a variety of items, from boats to RVs to construction equipment.
However, towing involves the interaction of several components, including the driver, tow vehicle and trailer, each affecting the combination's safety.
With that in mind, here are some tips to help make your towing adventures go more smoothly and safely:
Check your trailer tires' pressure and inspect them for dry rot and cracking.
Keep your tow vehicle's maintenance up to
Make sure the ball on your tow hitch matches the coupler on your trailer.
Always cross the trailer's safety
Make sure you have at least one spare trailer tire.
Ensure the trailer's electrical wiring system is properly connected to the tow vehicle.
When unhooking, place wheel chocks in front of and behind the trailer's tires.
Before heading out on your next summer adventure, contact your agent to verify that your towing vehicle and trailer are properly insured.
Usage-Based Insurance and You
As a result of increasing auto insurance premiums, consumers are showing interest in usage-based insurance (UBI) options.
According to the J.D. Power 2023 U.S. Insurance Shopping Study, 22% of insurance shoppers were offered a UBI option and 18% purchased it.
UBI uses telematics software to monitor driving habits. The insurer assigns rates based on safety and mileage metrics.
UBI may be powered by a self-installed plug-in device or by original equipment installed by the vehicle manufacturer. Some insurers track driving habits through mobile applications.
UBI Pricing
Unlike traditional auto insurance underwriting, UBI uses current driving behaviors to calculate premiums. As a result, safe drivers who travel fewer miles can potentially pay less for auto insurance.
For more information on auto insights or UBI, schedule a meeting with an insurance professional at Duncan Financial Group.
This newsletter is for informational use only. © 2023 Zywave, Inc. All rights reserved.