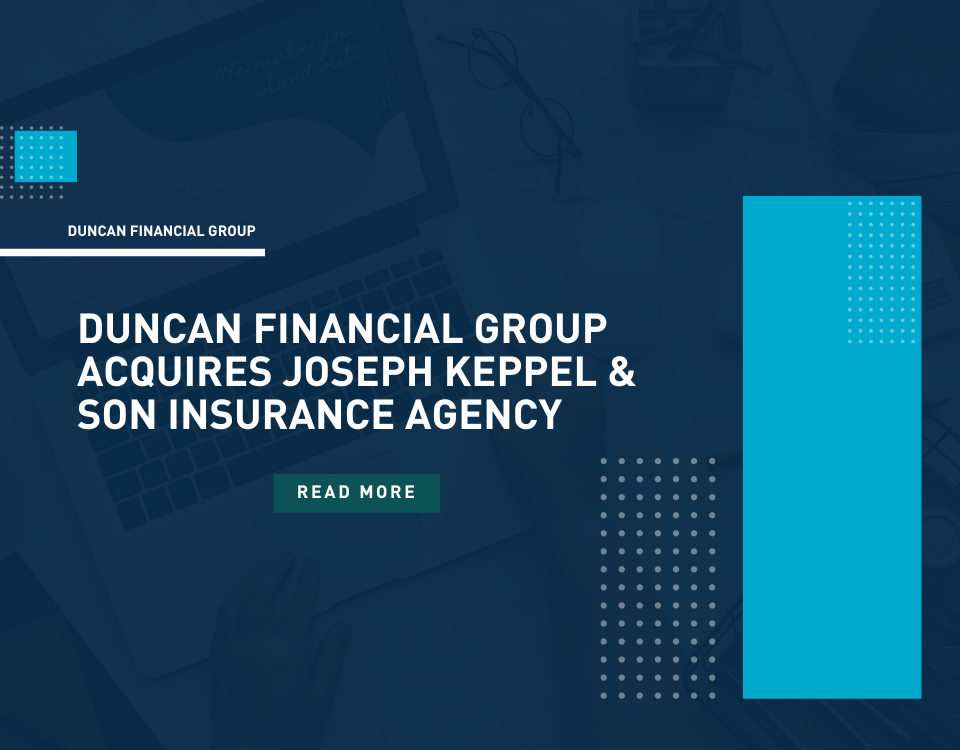 Duncan Financial Group Acquires Joseph Keppel & Son Insurance Agency
November 8, 2022

Employers can't just "phone it in" with workers' comp when it comes to remote workers
November 28, 2022
Curing WorkCompitis
By David R. Leng
You might not be familiar with the disease named WorkCompitis, but as a business owner you may be suffering from its symptoms. According to the Institute of WorkComp Professionals' (IWCP) employer surveys, 75% of employers suffer from WorkCompitis as they feel frustrated by workers' compensation. It may take up to four years to see the results of improved safety processes and injury reductions in reduced premiums thanks to the experience modifier calculated and assigned by the state rating bureau. Even worse, IWCP states that 10% of Experience Modifiers are wrong, and 90% are mismanaged! Therefore, what happens after an injury may be the bigger problem left unaddressed.
The issue: many employers focus on curing the symptoms rather than the cause of WorkCompitis. Few employers take the time to regularly reassess their Risk Profile. The whole idea behind Risk Profile Improvement is to go through the entire Risk Management process cycle and continue to do so. If not, how will you know if your insurance program is adequate to meet your needs?
The ongoing five-step Risk Management Process includes (1) Risk Identification, (2) Risk Analysis, (3) Risk Control, (4) Risk Treatment and Finance, (5) Risk Review and Refinement.
The first step, Risk Management & HR Assessment provides the foundation by identifying what is happening within your organization. If you do not identify and continually reassess all the risks and gather good data, you cannot analyze it and figure out how to best control or cure your WorkCompitis. Side note: If you buy insurance and cannot clearly explain how you address and improve your risks to an underwriter, you will pay more premiums to insurance companies. More importantly, how do you know you are adequately insured if you have not identified your risks?
It's true that "you don't know what you don't know," so a lack of knowledge and experience can prevent you from asking the right questions. The other concern is that someone may be too involved in the details of a problem to look at the situation clearly and correctly identify what is going on. Therefore, you will need to determine if your organization has the experience to perform a thorough risk identification or if you should use an experienced outsourced risk manager to help you through the identification and diagnosis process.
The Risk Management and HR Assessment begins with a thorough review of paid and unpaid (uninsured) claims. It helps to interview key employees to understand the risks they see. It's important to assess the existence and effectiveness of current safety programs, compliance, claims reporting and management processes, quality control procedures, and HR, including your hiring and orientation processes.
In this stage, being open and honest about your entire organization and its inner workings is essential. If you do not identify the risks, you cannot address the risks. Trying to ignore or hide a risk is equivalent to sticking your head in the sand and hoping something bad does not happen.
Conduct a Loss Analysis, a review of five or more years of your incidents, the more data, the better. Look at the totality of the risks impacting your organization, including workers' compensation, general and auto liability, property, employment practices, etc. For example, vehicular accidents can drive up your auto, inland marine, and work comp premiums as employees may be injured in an accident and damage the vehicle and any equipment being transported. Plus, based on the size and nature of your fleet, controlling the selection of drivers and conducting fleet safety will be critical to reducing premiums.
Accident/incident and near-miss investigation reports will help determine where to focus prevention efforts by identifying the origin of incidents and injuries and the causes and types of claims. For clarification, Employer First Injury Reports are not accident investigations.
You can see the holes or problems in your policies, procedures, and programs by understanding what changes are implemented following claims. You may determine you have employees who are frequently injured or cause claims and may need a program specifically designed to reduce the potential of repeat claims or there may be a problem area in your operations.
Understand how you hire new employees: your employment application, employment packet, how you orient your employees, and how you conduct your safety programs. Why? New employees are more than five times more likely to be injured than longer-term employees. You also do not want to hire problematic employees.
An Experience Modifier Analysis will reveal how your experience modifier was calculated and verify its correctness. Then calculate the costs of each injury and determine how to improve your injury management and recover-at-work processes to reduce your future experience modifiers.
A thorough Coverage Analysis, a review of your insurance policies, is critical. Believe it or not, your insurance policies are an excellent place to understand some of your risks. Insurance companies identify certain risks they list, schedule, or cover on your policy. The insurance company may also identify risks not adequately addressed or risks they simply do not like and add exclusions to your policy, which can relate to something significant to a business' operation.
In addition, an analysis of your past insurance company's surveys and recommendations and your responses can shed some light on what risks you are facing.
Every employer should conduct a Facility and/or Work Site Analysis. When touring the facilities, you can see everything in action. Look closely at housekeeping, safety, maintenance, quality controls, and how well your employees perform.
Using Checklists is also an excellent way to identify risks within your operations and facilities. Typically, potential risks are on these lists because they commonly occur in your industry; however, no checklist contains every risk. That is why using multiple risk identification techniques (as described above) are necessary.
The goal is to better identify your risk and minimize or eliminate the issues to ultimately drive down your costs. After this information is gathered, you can start the Risk Analysis process and move on to implement programs to slash your workers' compensation costs and premiums and, ultimately, cure your WorkCompitis!
David R. Leng, CPCU, CIC, CBWA, CRM, CWCA, is author of "Insured to Fail," "The 10 Laws of Insurance Attraction," and "Stop Being Frustrated & Overcharged," and is the Chief Risk Officer of the Duncan Financial Group in Irwin, PA, a member of Keystone. He is also an instructor for the Institute of WorkComp Professionals (IWCP).